About Me
I live in rural east Herefordshire with my husband, Mike.
I completed a degree in English literature at Stirling University (1985 -1989) where I specialised in medieval literature. I was drawn to Stirling by the landscape and the wildness of the mountains and hills. I was not disappointed and was surrounded by a suitable back-drop for the subject I was studying. My love of the language and stories of medieval literature was enhanced by the fact that much of the research material I was reading was illustrated with paintings and simple woodcuts of the period. I became immersed in a magical world of romance, strange words and naïve but arresting images, and it was not long before I began to paint and write for pleasure as well as working for the degree.
After leaving university (with a first class honours degree), I worked in several different jobs and lived in Cumbria for a while before moving to Herefordshire where Mike and I had bought a woodland together with a small group of people. I then returned to college to complete a foundation year in art at Gloucester College of Art and Technology where I was expertly tutored in life drawing and discovered the highly influential work of the Brotherhood of Ruralists. A few months later I got a job working in The Collection Gallery in Ledbury which was a useful insight into the world of selling craft. It was at this time that I married Mike and soon after became a full-time mother of two.
In 1999 I began an evening class in stained glass at Hereford College of Art and Design. I soon gained an OCN in the craft but continued the course for a total of four years until our second child started school. At this point I decided to take things more seriously and invested some money in a kiln and built a studio in which to work.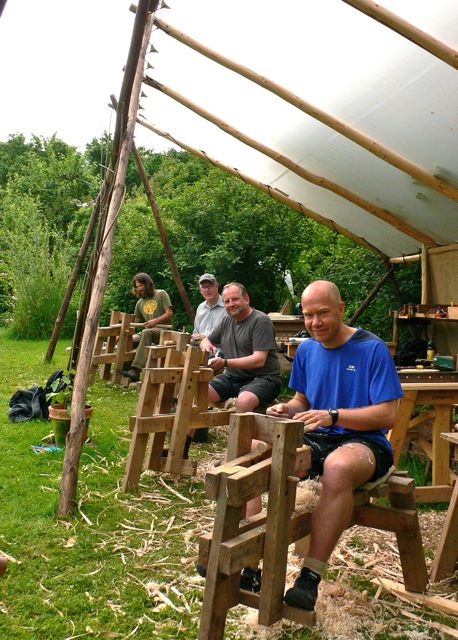 Mike Abbott's Greenwood Chairmaking
Whilst I am working in my studio making stained glass, my husband Mike is running green wood chairmaking courses in our garden, or writing or making chairs for sale. We have self published two books, 'Living Wood' and 'Going with the Grain'.
Check out Going with the Grain for more information about this and Mike's green wood-working courses.