Shed Stories #1 'It was twenty years ago today'
Well, it's ever so slightly over twenty years on from the launch of my career as a stained glass illustrator, and from the moment our second child, Dougal started school! So it seems an appropriate time to take stock and begin writing a monthly blog for all you lovely subscribers and followers old and new. If only I'd done it years ago!!
The plan is to send out a monthly newsletter with updates on what has been going on in my life with special emphasis on what's on my lightbox, any upcoming events, and updates on the Wild Folk book collaboration I am currently doing with Jackie Morris. However, I thought I'd start with some very rough background information about myself and my work.
Subscribers will also have exclusive access to print offers, competitions, early access to new prints, and any other interesting news. Welcome aboard!
Dougal ready for his first day at school, September 2003
I began selling my work at Herefordshire open studios (known as hArt) in September 2003. It was the first time I used my new (and slightly incomplete) workshop but at least the walls were completed and the roof was on!
Husband Mike, and Phil White mixing up the 'daub' for the wattle and daub on my workshop, summer 2003.
In those days I hadn't even considered using the Internet to sell my work and I'm pretty sure that Facebook, Twitter and Instagram were not yet in existence.  I was therefore delighted when I not only sold my work but a couple of gallery owners visited my exhibition and asked me if I would sell my work with them! It was a great start. 
Early works, 2003
I thought you might be interested to see some of my very early pieces so here are a few which I made and sold in autumn 2003!  I was trying to make something that was original in the stained glass world and move away from regular-shaped pieces with coloured borders, which seemed to be what other people were making.  At the time I didn't know of anyone else making free hanging work like this.  I was particularly excited to develop what I call my arch or half roundel shape which was completely inspired by a hill just off junction 7 of the M5 motorway at Worcester! as well as another nearby hill called May Hill in Gloucestershire which can be seen from miles around and from our neighbouring county of Herefordshire.
I am sure these photos will be encouraging to anyone starting out. I have come a long way since then but there is still something I love about these simpler pieces and step by step they guided me to where I am now….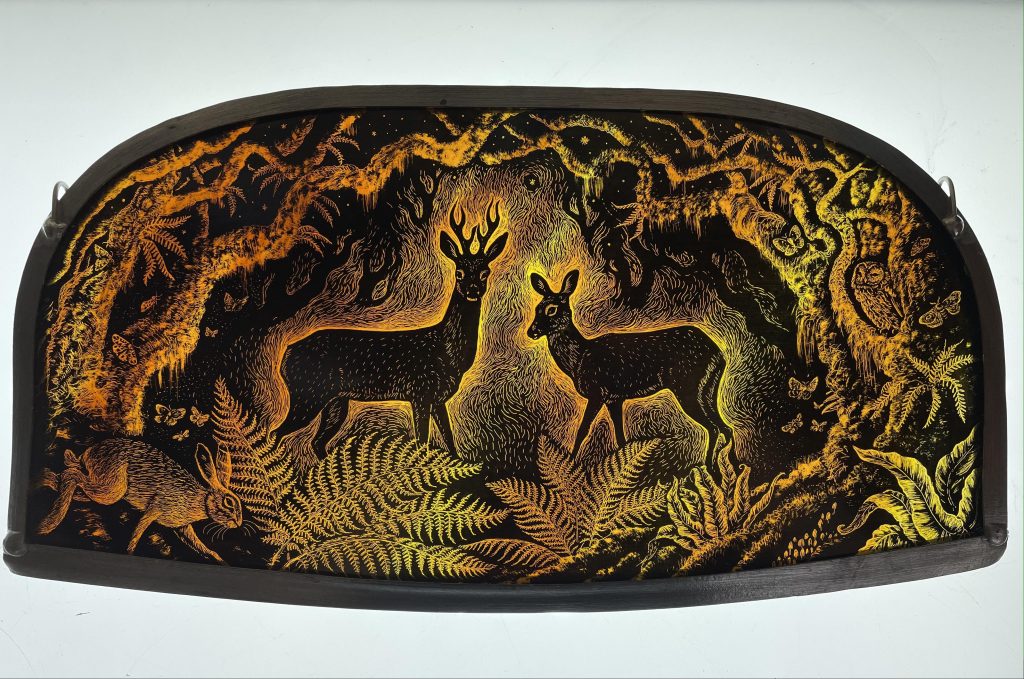 The Golden Grove, September 2023
When I began making and selling my work I also made a conscious decision to use the glass as a jewelled surface for black wood engraving-like images, cutting the coloured glass to create areas of landscape or underground, underwater layers, rather than trying to use the glass to echo the shapes of real things. It was another active decision to try and create a style of my own and at that time I was more influenced by wood engravers than by stained glass. (Shocking though it may seem.)
In fact, to begin with, I knew very little about other stained glass artists but nowadays I am constantly bowled over by the skill and abilities of so many artists working in this medium. It has always been a glorious material with amazing practitioners but now it really has become a truly inspirational and incredible field.
Playing in the woods, 2003
However, twenty years ago my primary role was still as mother and homemaker.  It was hard work but both Mike, my husband, and I loved being outdoors and spending time outside with the kids and friends. And needless to say these times fuelled my creative work when I had the time to make. It has always been the countryside that has inspired me and filled my heart.  I don't mean to sound trite but I always felt as if I'd been born, not in the wrong body but in the wrong place!
From my own early childhood growing up in Liverpool and then Derby I was fortunate in that our parents took us on many wonderful camping holidays in different parts of the United Kingdom and I was able to imbibe a sense of different landscapes, their sights and scents. But every time we returned home to the city I grieved for the countryside.  I had a desperate desire to live a rural life, and the ambition to make this a reality was what fuelled nearly all my decision making over the age of 18.
On top of Goat Fell, Isle of Arran, Scotland, with our cousins. (I'm in the middle in blue!), circa 1976
As a result I have lived in some beautiful parts of the United Kingdom- Stirlingshire, Cumbria, Powys, and now, for almost 3 decades, Herefordshire.  I am sure that all of these places and lives will appear in future newsletters but here is a panel I made about ten years ago infused with the atmosphere, shapes and colours of our local landscape of Herefordshire and in the background an example of life imitating art.
Autumn Quaker and Mike, Greenwood Cottage, September 2023
And here is the team that brings all of this to you; myself and Dougal, on my workshop veranda, September 2023
See you all next month!